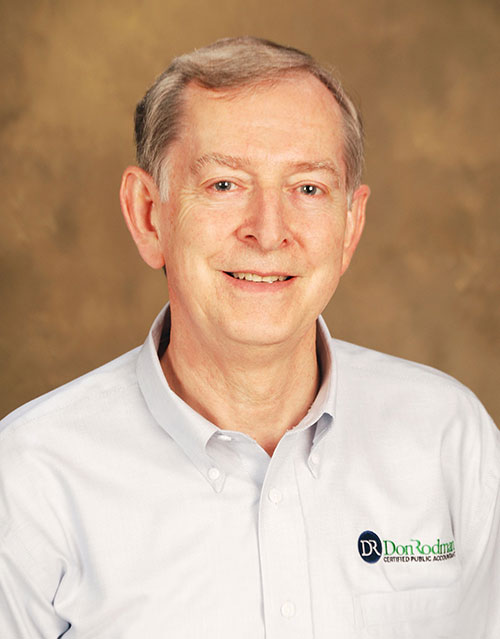 Don Rodman, PS, CPA, MBA – Founder and Owner
Don Rodman, PS, CPA, MBA, is the Founder and Owner of Donald Rodman, CPA, PS, a tax firm he established in 1980. Don is most passionate about accuracy, client satisfaction, and timeliness. Specifically, Don believes that his success is determined by the success of his clients.
He has extensive experience with teaching, including giving seminars on QuickBooks®, CPA course reviews, and instructing accounting and tax classes. He serves a wide range of clients, which allows him to help as many individuals and businesses as possible.
Don graduated from Eastern Washington University, where he earned his Bachelor's degree of Arts in Accounting, followed by his MBA in Business. He also earned his CPA certification in Washington. He's been involved in myriad community service projects, such as holding an officer position in the Spokane South Rotary, participating in the Cancer Patient Care Local organization, and doing work with the Zephyr Conference Center.
When he's not working, Don enjoys playing tennis, traveling the world, reading history books, and watching collegiate sports.
Lynn Metz – Certified QuickBooks® ProAdvisor
Lynn Metz is a Certified QuickBooks® ProAdvisor at Donald Rodman, CPA, PS. She has been with the company since 1999. She is genuinely passionate about QuickBooks® and enjoys using her knowledge and experience to teach others how to get the most from the software.
Lynn has been using QuickBooks® since 1994; her knowledge and experience are unsurpassed. She has taught hundreds of people via seminars and one-on-one training and has even consulted for multi-million-dollar corporations and businesses. Additionally, she's worked with small businesses, Mom and Pop businesses, and non-profit organizations. She's solved all issues, too, from big to small.
Currently, Lynn's daily general duties include handling the QuickBooks® side of the company, solving QuickBooks® issues, advising on QuickBooks®, and preparing tax returns, payroll, and billing.
When she's not working, Lynn enjoys sports car racing, painting, and gardening. She also has a six-year-old Shih Tzu, Nina, and an eight-year-old miniature poodle, Scooter, who both keep her busy. Her favorite TV show is Lucifer.
Eric Rodman – Administrative Assistant
Eric Rodman is an Administrative Assistant at Donald Rodman, CPA, PS. He has been with the company since 2021. He is most passionate about working with his father, Don, and getting the opportunity to learn something new in the accounting and tax industry every single day.
Eric's general duties include meeting and greeting clients, preparing tax returns, answering phones, and ordering office supplies. He is eager to transition into handling the QuickBooks® side of the accounting operation, as well as payroll and billing.
He earned a Bachelor of Arts in Accounting from Western Governors University and a Bachelor of Arts in Marketing from Eastern Washington University. When he's not working, Eric enjoys traveling, reading books, playing pinball and collecting pinball machines, playing soccer, and riding horses. His favorite TV show is Law & Order.